Chelsea Flower Show 2015 'The Glory of the Garden'
In 2015, following two years of successful and creative stands at Chelsea Flower Show, Roots and Shoots in collaboration with Pennard Plants, for a final time we came together to create a spectacular Gold Medal-winning garden. 
The 2015 Roots and Shoots-Pennard Plants collaborative Chelsea Flower Show stand gardens continued with a garden inspired by Kipling's poem ' The Glory of the Garden'. The poem emphasises the diversity of people of all abilities who can do gardening, be gardeners and benefit from the beauty of gardens and nature, which is one of the founding philosophies of Roots and Shoots.
The Glory of the Garden
Our England is a garden that is full of stately views,
Of borders, beds and shrubberies and lawns and avenues,
With statues on the terraces and peacocks strutting by;
But the Glory of the Garden lies in more than meets the eye.
Read the rest of the poem here
The development of the garden by our students was featured on the BBC's Gardeners World television programme.
The garden was once again designed by our Director's talented landscape architect husband Tony Danford who kindly volunteered his time to develop a 3D drawing of the design for Chelsea Flower Show approval.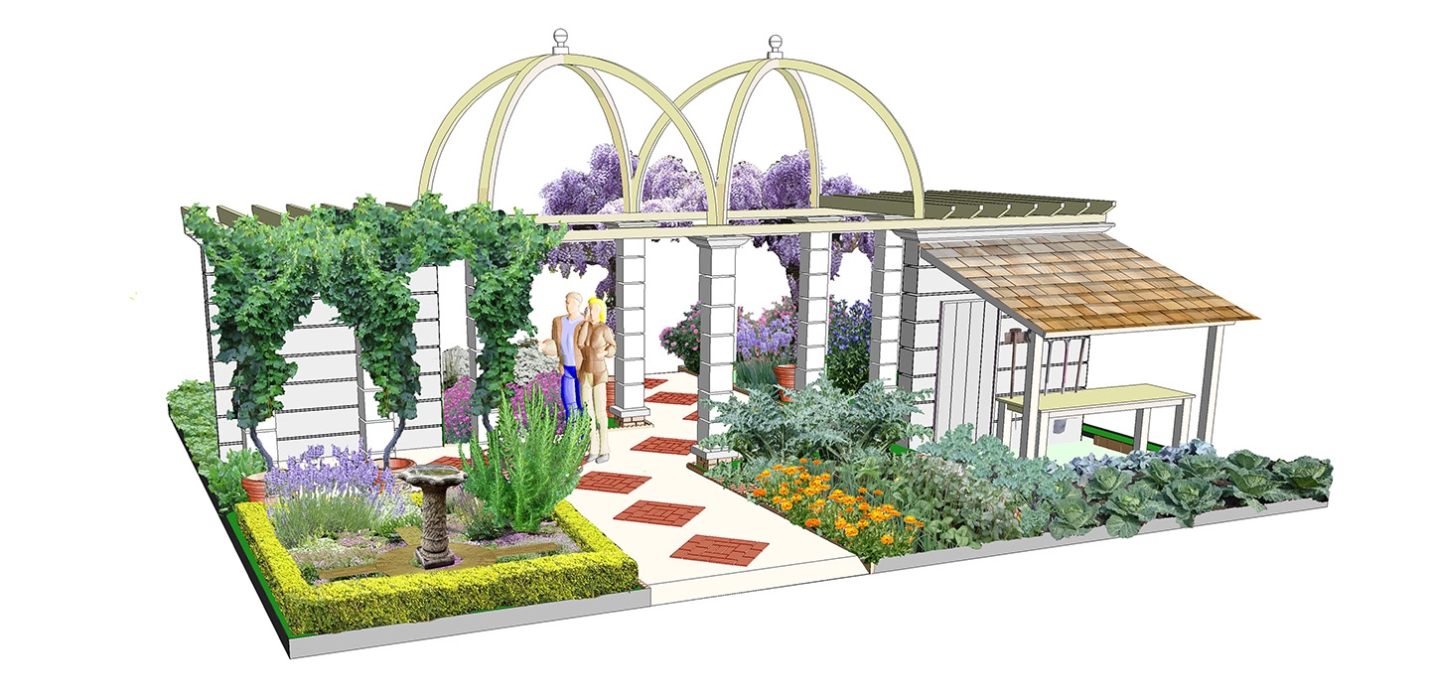 The design was inspired by a classic Edwardian garden, with abundant planting, a small kitchen garden, and an impressive pergola. Based on the beautiful West Dean palladian pergola, the design included a central paved path edged with stone faux walls and pillars on which curling climbing roses and wisteria grew. Planting was inspired by the famous Edwardian plantswoman Gertrude Jekyll who created many iconic British gardens of the era, and is considered one of the finest plantswomen/artists of her generation.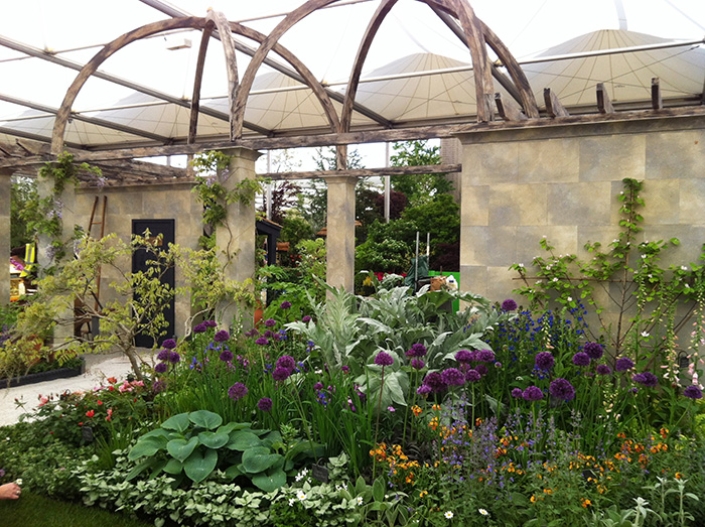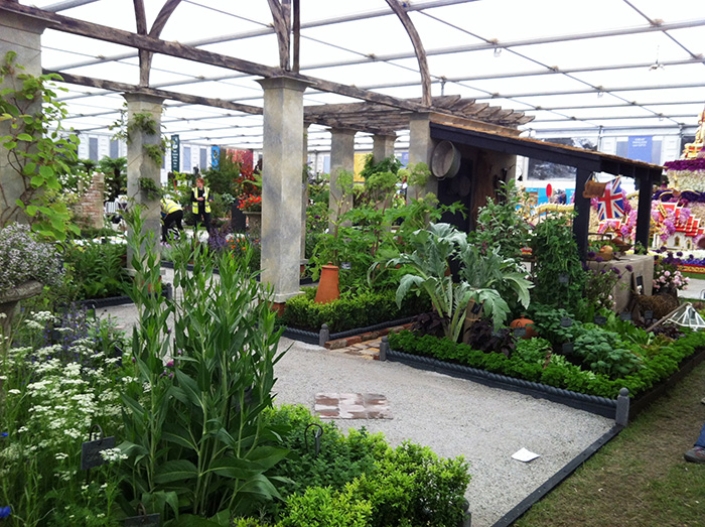 Chelsea Flower Show gardens are in essence, 'stage sets', with participants expected to set up their stands and gardens in only 1 week. This means that as much work as possible has to be done prior to the show, with display items needing to be as lightweight and transportable as possible. Later on, only 2 days are allocated to taking the garden down, and the site must be left immaculate. 
On our stage, students and staff used classic stage set techniques to create dramatic, and importantly light-weight structures. The 'stone' pergola structures were made with plywood, cardboard and emulsion with sand, and then painted to give a stone effect. At the stand, people often tapped on the 'stone' as they couldn't believe it wasn't real! The wood was made from plywood, and that was also painted with special effects to look like oak. At the end of the show, the pergola was given to a local opera society in Clapham for their production of Don Giovanni. 
Students helped set up the garden, and then came to the show every day with a tutor to talk to visitors about Roots and Shoots, handing out leaflets and helping to raise funds. This was a great experience for our students, who would not usually have access to such a high profile event, with tickets usually costing over £40. As part of the event, we raised £27,000 in public donations towards building the New Roots Building for environmental education at our site in Kennington. 
To give the most authentic Edwardian look, Pennard Plants brought their extensive collection of Edwardian garden paraphernalia including wheelbarrows, tools and containers, as well as some recycled stone troughs from Roots and Shoots. They also provided varieties of heritage vegetables for the kitchen garden section of the garden. 
The planting palette included reds, oranges and purples, with a focus on hardy plants which were available in the Edwardian period. Nasturtiums tumbled down from containers, with ornamental vegetables such as strawberries, chives and artichokes mixed in with herbaceous perennials such as alliums, hostas and geums.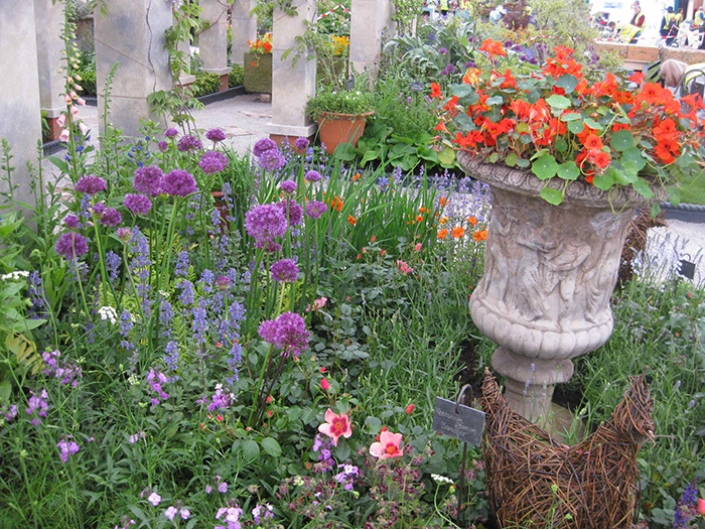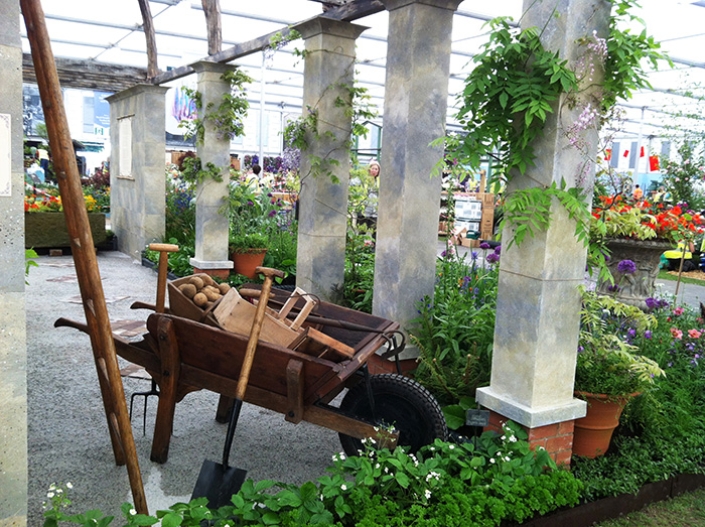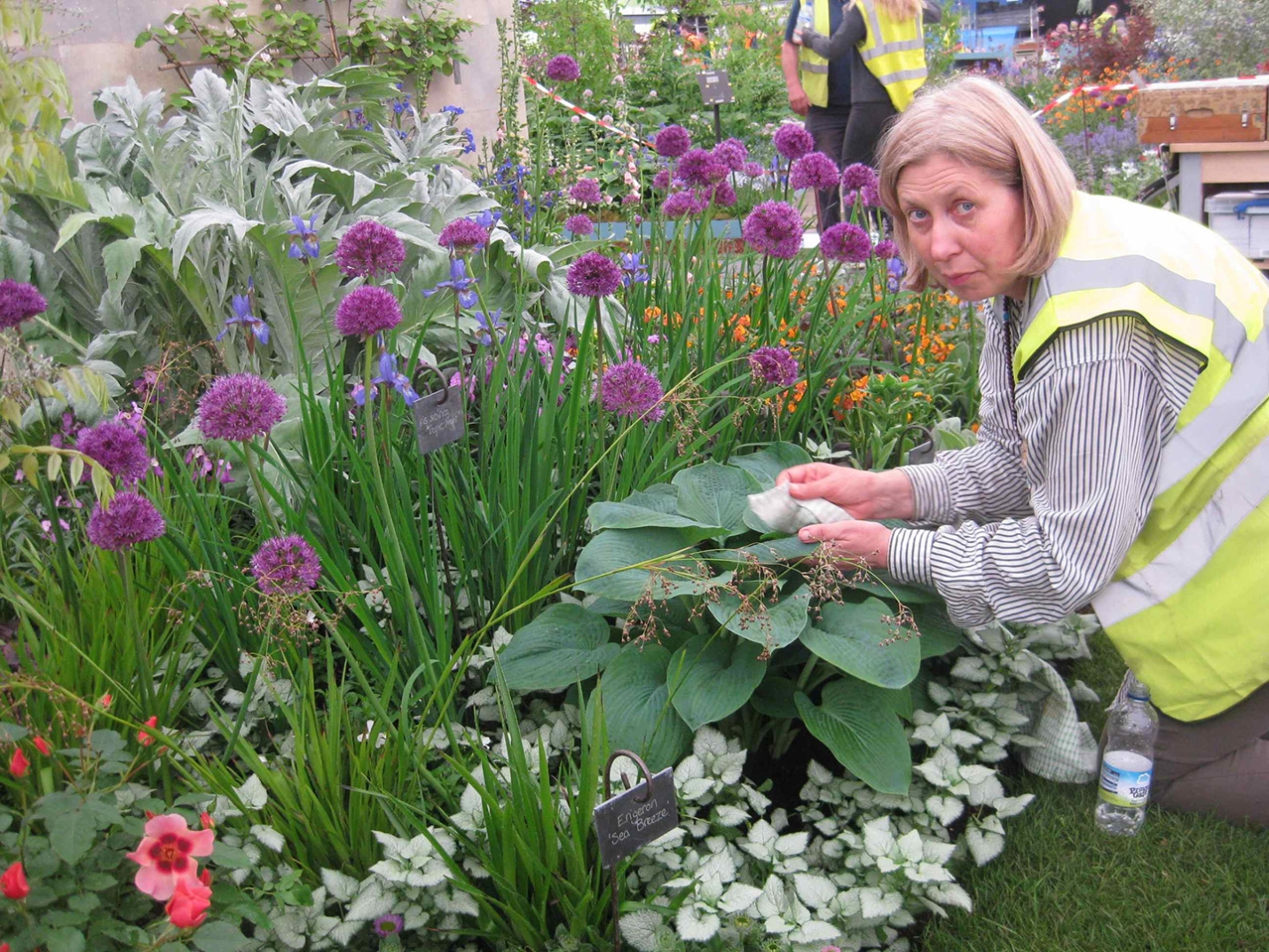 In the garden there must be no imperfections, here is our Director Linda cleaning hosta leaves to ensure they had no soil or water marks on them.
Monty Don, Gardeners' World presenter, did an onsite feature of the garden for their Chelsea Flower Show programme.
Our stand was also visited by Her Majesty the Queen where she met our director Linda Phillips MBE and Chris Smith from Pennard Plants. This was very special, as only a few chosen gardens are selected for a royal visit each year.
Linda, in her gardening gear, matched the Queen remarkably well on the day in bold turquoise. She gave the queen a posy of herbs from the garden, and Roots and Shoots roses.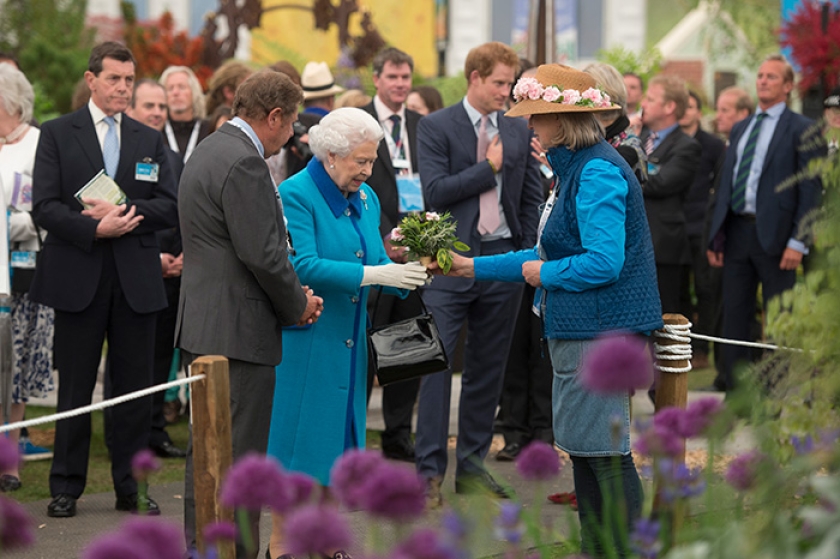 A big thank you to Chris, Mike and Jane at Pennards Plants, Joe Maher and his team at JPM Ltd, Tony Danford for his landscape architect's eye and artistic skills, Sarah Wilson for her artistic talents, Vital Earth for compost supplies, Lindsay Swan for PR support, Supporters of LMH, Kipling Society, Friends of Roots and Shoots, and staff, students and volunteers at Roots and Shoots for helping to make such a fantastic Chelsea FLower Show garden!