As an environmentally focused charity, Roots and Shoots promotes urban biodiversity, gardening and nature access for all. Our impact over the past 40 years is exemplified by the dramatic transformation of our site from a barren and polluted industrial site, into a UNESCO award-winning organisation with biodiverse wildlife gardens, excellent horticultural programmes and deep roots with the local community.
Roots and Shoots buzzes with life...
One of the two primary aims of Roots and Shoots is to provide a sanctuary for nature across our unique one-acre site in central London. Our green spaces and gardens have been designed and are maintained to enrich biodiversity in the urban environment, with plants from across the world filling our green spaces with luscious growth and abundant flowers. Insects of all kinds (including butterflies, moths, hoverflies, beetles and over 36 bee species) thrive in our biodiverse gardens, which are filled with pollinator-rich meadows and herbaceous borders.
All year round, birds sing in huge yellow rose bushes and mature trees, while frogs croak from the pond's edge, a family of foxes explores from its den at the back of the Wild Garden, slow worms slither through dead hedges and pipistrelle bats swoop through at dusk.
Read more about our Environmental Projects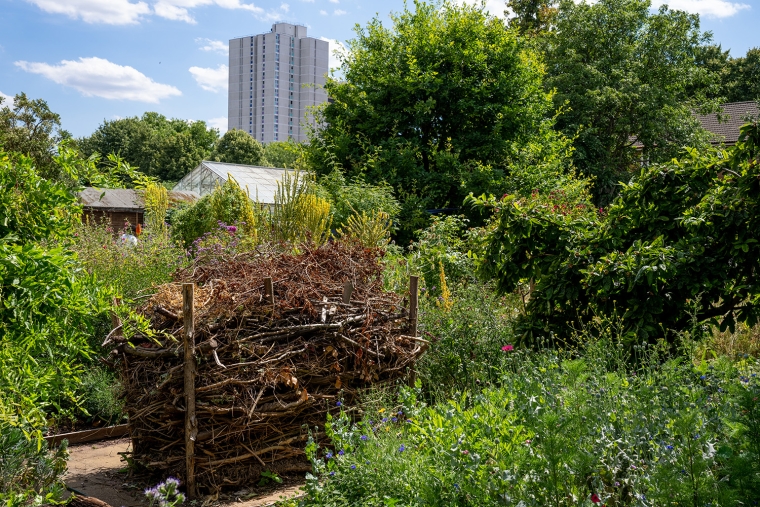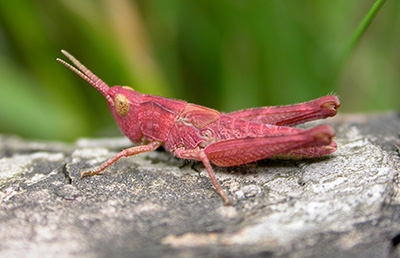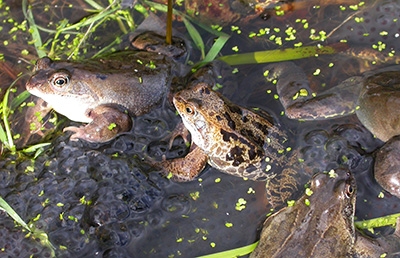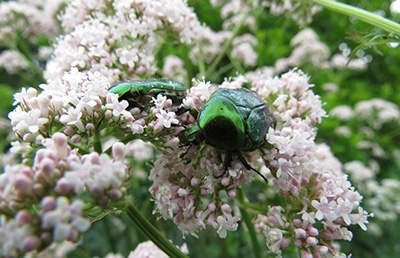 Roots and Shoots is a leading example of creating a haven for nature and people together at the local level. In 2011 it received a 'UNESCO Man and the Biosphere UK award' for our impact on the local environment and our work with disadvantaged communities. The award described Roots and Shoots as:
This abundant urban oasis provides a unique therapeutic environment for learning and growing, enabling Roots and Shoots to host a wide range of activities and people including Vocational Training to our students, Environmental Education for school children and access to a peaceful space for local people, community groups and events.
Read more about What's On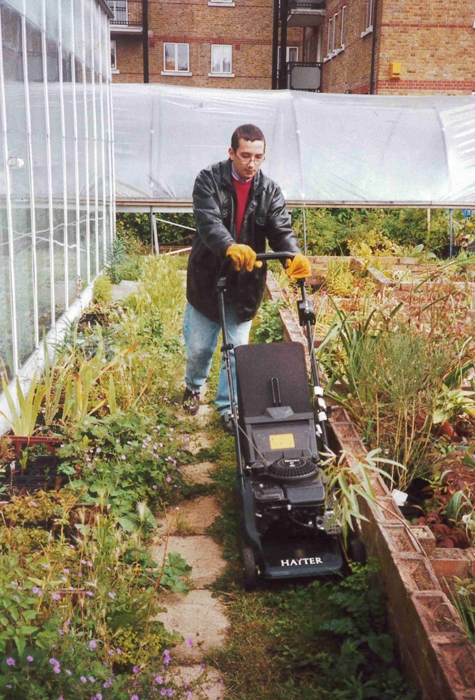 Our Horticultural Practice
Behind our environmental impact is 40 years of practical regenerative gardening by staff, students and volunteers, working from the soil-up to restore stability and fertility to the land. The site is managed circularly, with sustainably-built buildings and recycling methods such as rainwater harvesting and composting underpinning all horticultural activity on site, reducing our carbon footprint, and returning nutrients to the soil. With this, our 'dead' polluted soil has been revived, and is now full of microorganisms, fungi, worms and other invertebrates, forming the foundation for a healthy ecosystem. All our plants are naturally grown with no pesticides or herbicides. 
Across the site we grow a wide range of choice plants for wildlife and cultivation which thrive in our warm urban microclimate. We grow a diverse selection of plants from around the world, from Chilean salvias and Canary Island echiums to Himalayan pomegranates and British native wildflowers, which reflects and celebrates our multicultural community. We specialise in growing nectar-rich plants for pollinating insects year-round, supporting over 36 recorded species of bee and more than 30 wasp species on the site.
Read more about the Pollinator Project
When Roots and Shoots first took on the Walnut Tree Walk site in 1982 there were no trees on site, 40 years later and there are more than 50. These include our famous walnut tree, Cellini and Espalier apple orchards and an oak tree which across its lifetime will support over 200 species of native wildlife. Fruiting trees, shrubs and bushes with nuts, seeds and berries like hazel and wild cherry are grown as food sources for birds, which are supplemented with bird feeders and bird boxes made by our students.
Native 'weeds' like nettles, thistles and ragwort are encouraged as they are essential to the life cycles of butterflies and moths, including Cinnabar moths and Painted Lady, Peacock and Red Admiral butterflies. We also create habitats for wildlife with dead hedges and piles of cut logs to support beetles and overwintering amphibians. Two ponds in the Wild Garden support a large population of smooth newts and frogs as well as many aquatic insects including diving beetles, water boatmen, dragonflies and damselfly nymphs.
Our ponds are essential areas for children to view wildlife in the city, connecting them with nature, with over 20,000 pupils visiting Roots and Shoots to take part in creative nature learning projects with our environmental educators over the past 20 years.
Read more about Wildlife and Habitats at Roots and Shoots on our Blog
As pioneers for the environment, Roots and Shoots is part of Lambeth Council's Biodiversity Action Plan, and has been designated a 'Borough Grade 2 Site of Importance for Nature Conservation' by Lambeth Council and the London Wildlife Trust. In 2021 and 2022, we were awarded an Incredible Edible Lambeth Blooming Lambeth Award as a Best Space for Encouraging Biodiversity.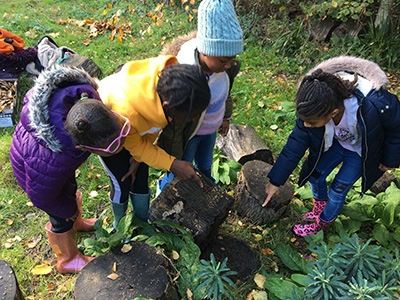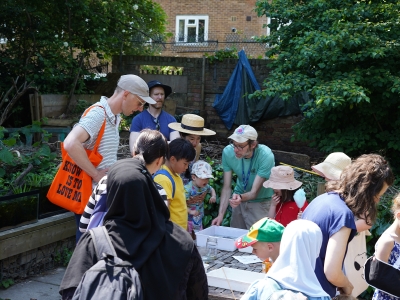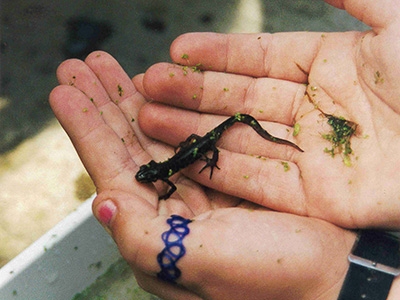 Therapeutic Green Spaces
There is now a proven beneficial link between mental health and access to nature and green spaces, with disadvantaged communities benefiting the most. Our therapeutic green spaces have been enhancing the wellbeing of students, staff, volunteers, community users and wildlife for over 40 years. We provide local people with the opportunity to surround themselves with nature, and to get directly involved via our environmental education for children, corporate and individual volunteering. In addition to the holistic benefits of green spaces, Lambeth Clean Air Monitors installed in 2021 have shown that our heavily planted site has proven benefits to cleaner air in the local vicinity. 
At Roots and Shoots we believe that anyone can garden, and that everyone should get out into nature, get their hands in the soil and get involved with gardening for the benefit of their physical and mental health, and also the benefit of wildlife and the wider community. When a person gardens, they tap into the natural processes that underpin life on Earth, and can get a true understanding of how nature works, and what our part in it can be. As well as our students and community groups, we also provide local people with opportunities to volunteer with us and garden onsite. We also host corporate volunteer days for bigger groups, many of which have never gardened before and find it to be a revelation. Our individual volunteers have gone on to study horticulture at Royal Botanical Gardens Kew and at Capel Manor College, and to train as landscape designers.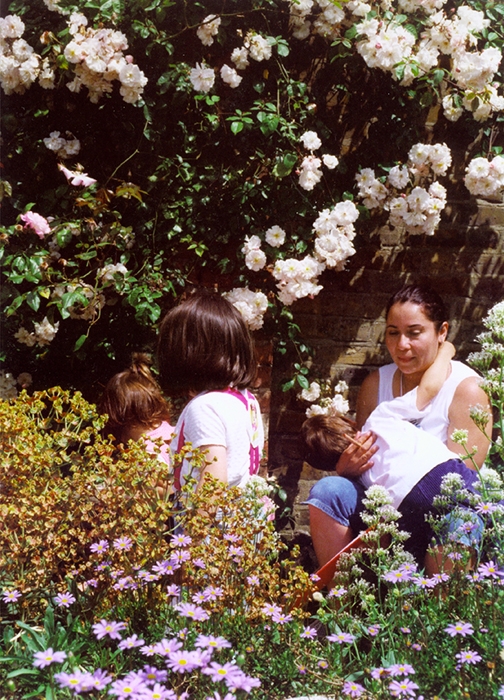 Roots and Shoots hosts the Grounding project, a specialist NHS horticultural therapy programme for refugees and asylum seekers living in the local area, who have experienced trauma. The project provides access to our peaceful gardens where people can come together in a safe and healing environment to connect with nature, explore and practise calming techniques and receive support from qualified clinical practitioners.
Since 2000, included in our green spaces is the Bubble Gate Garden, a public open space next to Roots and Shoots which our students maintain as part of their horticultural education for the benefit of wildlife and the community. This green space provides constant access to nature and green space for local people to enjoy. During the 2020-2021 Lockdowns, the Bubble Gate Garden was an essential place for people to visit and meet friends and family in the fresh air, and a space was set up for them to sow seeds, grow vegetables (with plants provided by Roots and Shoots) and find connection during a very difficult time.
Read more about our Community Impact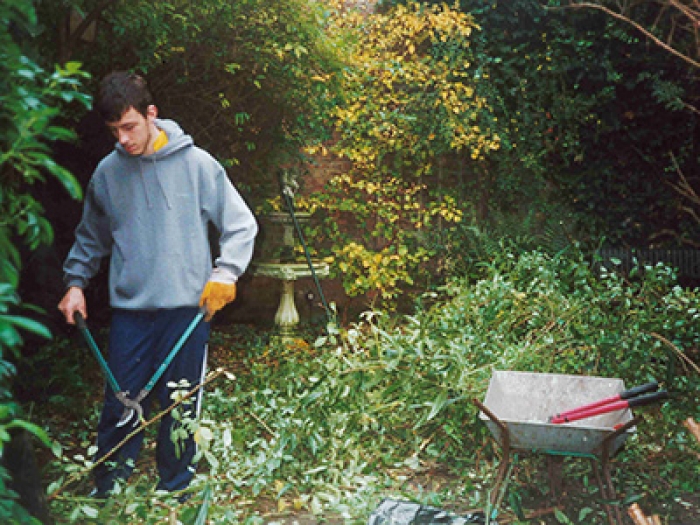 Students and Community Horticulture
At its core, Roots and Shoots is a charitable independent training provider for young people in London with Education Health and Care plans. In 1982, it was founded on the theory that gardening and other practical and creative vocational skills such as woodworking and floristry would provide young people with learning difficulties with all the transferable skills required to find their feet and be ready for work. 40 years later, that theory has been proven correct, with over 1000 students having graduated from our vocational training programmes.
Read more about Student Impact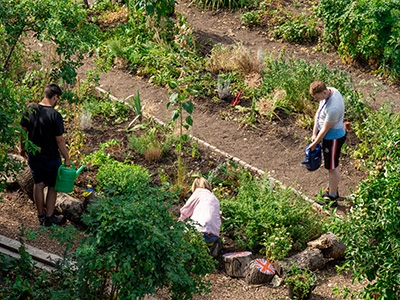 A large proportion of our students study horticulture, learning in the classroom as well as practically in our gardens and green spaces, allotment and in the community. Our students' Garden Outreach has extended Roots and Shoots' environmental impact from the main site out into the community, with gardens in parks, schools and community spaces supported and managed across South London for 40 years.
Having trained hundreds of young people to garden, many have gone on to work in green industries, bringing the skills and ethos they learnt at Roots and Shoots to new green spaces. Graduates often go on to study at Capel Manor College, and to work in places including Lambeth and Southwark Parks Department, Victoria Park and landscape contractors. Ricky, one of our horticultural graduates who loved gardening was featured in the Sunday Telegraph for his horticultural work, read below: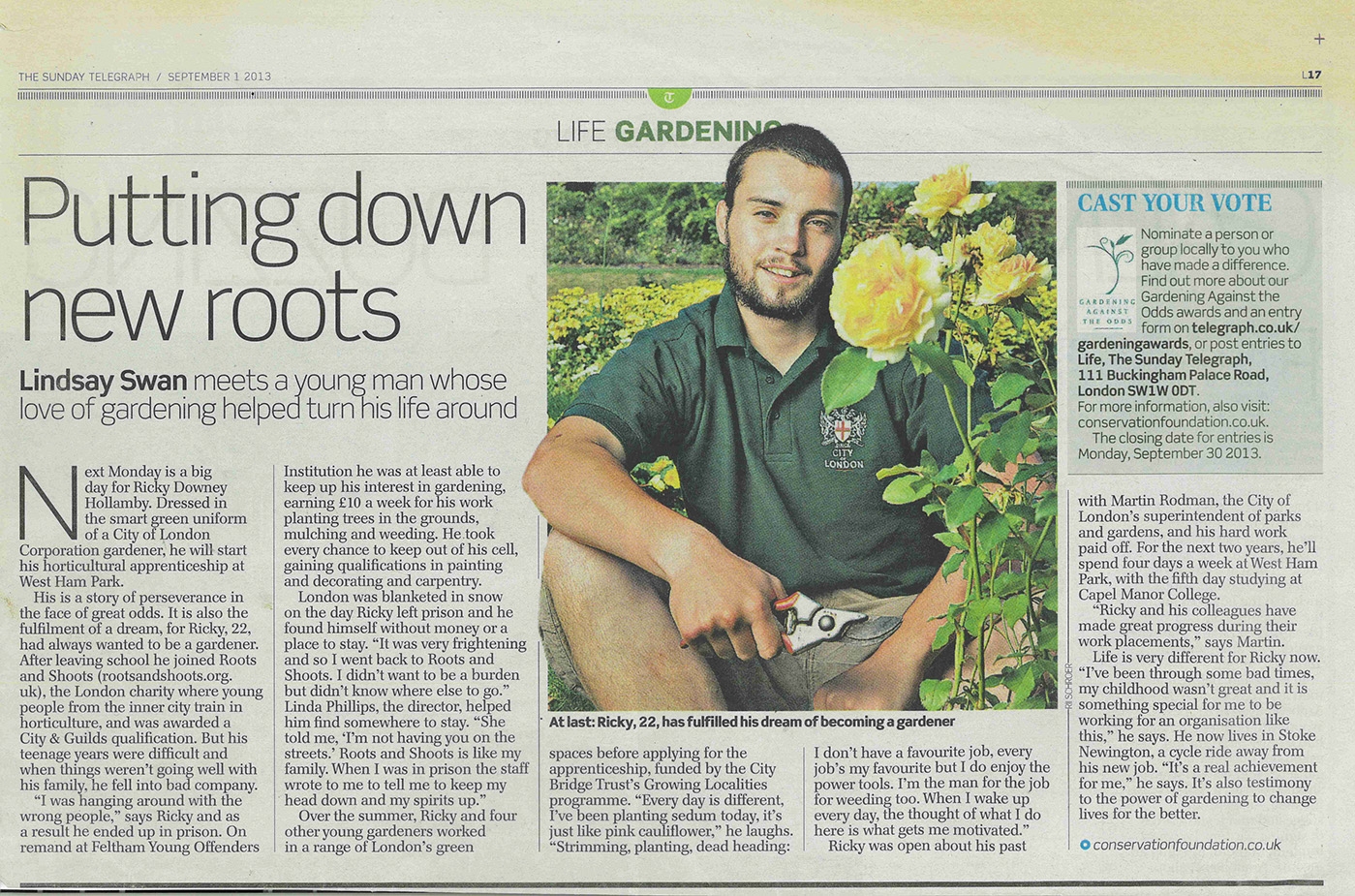 Ricky, one of our horticultural graduates was featured in the Sunday Telegraph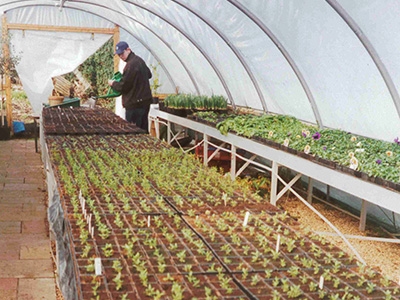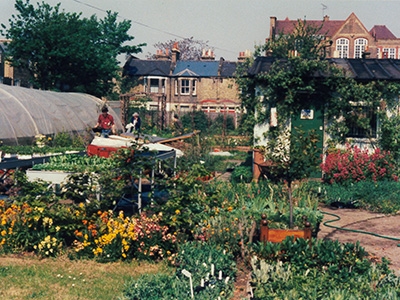 Plants sales at Roots and Shoots across 40 years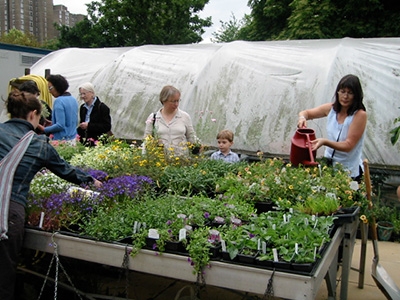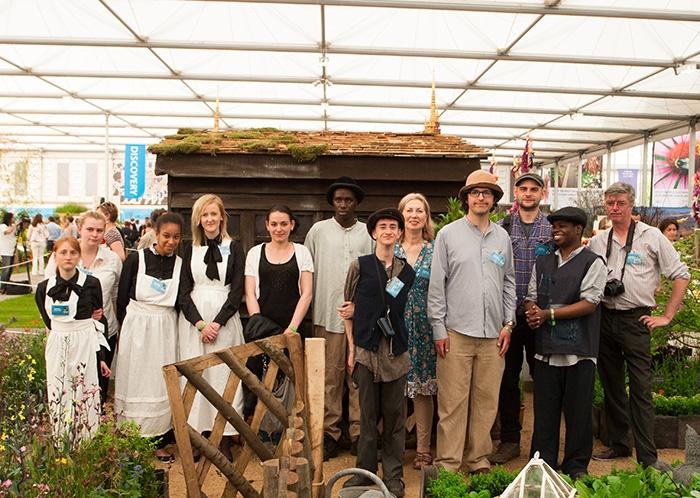 Horticultural Projects
Between 2013 and 2015 we used our horticultural skills in partnership with Pennard Plants to create three show gardens at RHS Chelsea Flower Show, for which we were awarded two Gold medals and one Silver Gilt medal. The show gardens exemplified gardening techniques both staff and students have honed over decades at Roots and Shoots - urban growing, planting for biodiversity and creative landscape design. 
For 25 years, up until the mid 2000s, Roots and Shoots operated as a plant nursery and horticultural resource for local people to buy bedding plants and vegetables such as busy lizzies, petunias, tomatoes and herbs for their balconies and gardens. The plants were sown from seed and grown by students and staff in polytunnels, cold frames and the greenhouse on site as part of their horticultural training, with the students also selling the plants to local people as part of their retail training. Locals were also given advice from staff on how to get the best out of their plants, and around Kennington window boxes and balconies blossomed. Plants were also sold at fairs, fetes and school events in London including Lambeth Palace Fete, Lambeth Country Fair and Walnut Tree Walk Primary School. 
Roots and Shoots has collaborated with The Conservation Foundation several times on horticultural projects, including the Tools Shed project with Wandsworth prison, the Morus Londinium London mulberry project, and the Ulmus Londinium elm project. For the Ulmus Londinium project, Roots and Shoots grew 750 young elm trees from small cuttings, which were propagated to be resistant to the Dutch elm disease that has decimated elm trees across Europe. The young elms were sent to ten sites around London for the final season of growing before being distributed to places with 'Elm' in their name like High Elms Country Park. This project also included pupils from Walnut Tree Walk primary school.
In 2019 our Director and founder Linda Phillips MBE was elected a Royal Horticultural Society Associate of Honour for her horticultural work at Roots and Shoots. This is a lifetime achievement award for professional horticulturalists, with only one hundred award holders in the UK at any one time.