In the heart of Lambeth...
Since its founding in 1982, Roots and Shoots has been at the heart of the community, actively contributing to the thriving Lambeth and South London area. Local people have visited for many reasons over the past 40 years, most often to come together in a calming place, to learn about nature or to take part in an event. We often collaborate with organisations in the area including local authorities, schools, parks, charities and local businesses, as well as individuals like local artists and community leaders. 
Our connections with the community go right back to the beginning in 1982, when Roots and Shoots was launched with a celebratory party with the local community, and where our now-iconic walnut tree was planted by founding manager Linda Phillips and Lambeth's Councillor Greenwood. It now stands over 10 metres high, a symbol of Roots and Shoots ever-growing vitality and reach.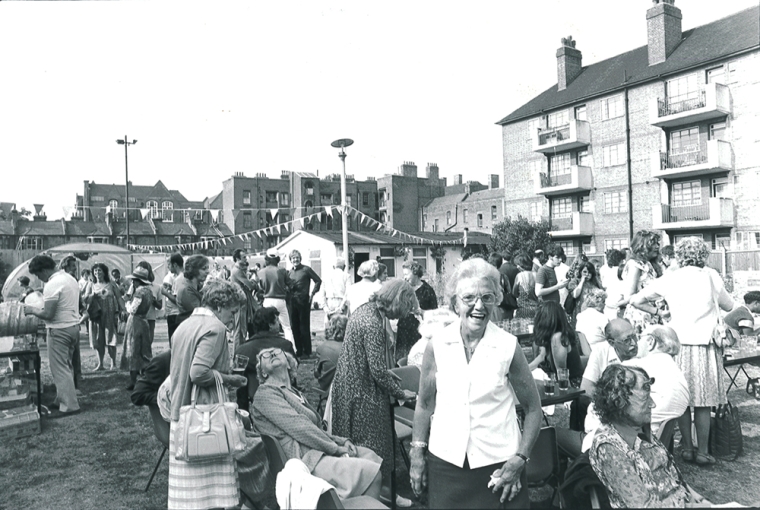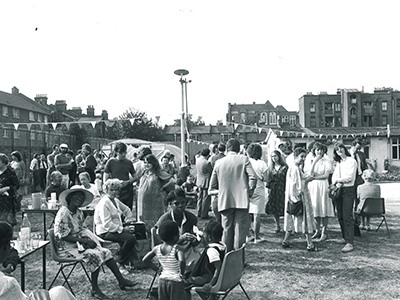 Locals at our 1982 launch party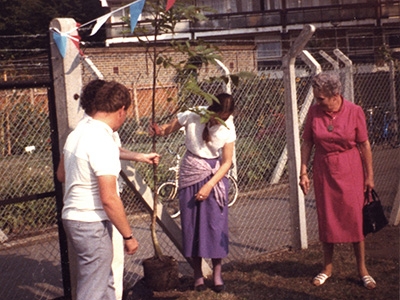 The walnut tree planted in 1982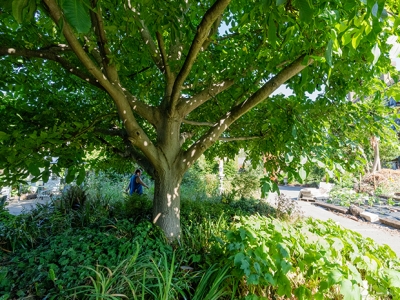 The same walnut tree in 2022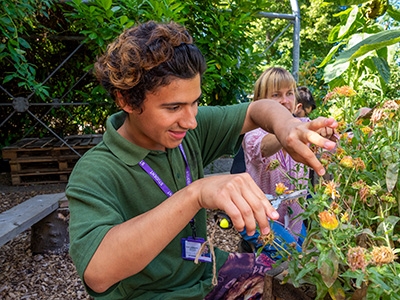 Students from the Community
Our community impact begins with our Vocational Programmes for disadvantaged young Londoners, making a positive impact on students and their families. In our vocational programmes, students learn a range of subjects, with a focus on building confidence and empowering them to take their next steps with increasing independence.
As part of this effort, students work in the community with over 30 different partner employers, including cafés, galleries, nurseries and parks. We are proud to say that Lambeth has been an incredibly welcoming place for our students, with many organisations and small businesses, which suit their wide range of aspirations, taking part. 
Students also have a positive impact on the community through their horticultural work in Roots and Shoots' gardens and the adjacent Bubble Reach Garden, to which the public has access, as well as through their Garden Outreach. Recently, students have joined Lambeth Council's Neighbourhood Champions scheme, where they pick litter and do other tidying around the vicinity.
Read more about Student Impact
In addition to the green education our students receive, over the past 25 years over 20,000 pupils have visited Roots and Shoots to take part in environmental education, including the Lambeth Living Waters project where classes took samples of water across Lambeth and looked at what life contained within them under the microscope, as well pond dipping and beekeeping.
Read more about environmental education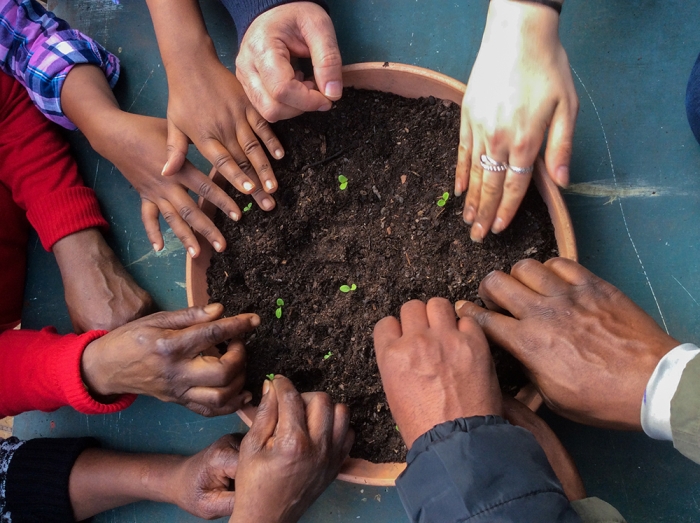 Since 2019 we have hosted the Grounding project, a specialist NHS horticultural therapy programme for refugees and asylum seekers living in the local area who have experienced trauma. The project provides access to our peaceful gardens where people can come together in a safe and healing environment to connect with nature, explore and practise calming techniques and receive support from qualified clinical practitioners. Historically, we have hosted groups such as the London Beekeeping Association, Kennington Horticultural Society and the Lambeth Autism Group.
Roots and Shoots is one of the founding members of the Black Environmental Network which works towards a vision of full multicultural environmental participation, and also a founding member of the London Gardens Network, a forum for green professionals in London to exchange ideas.
We also collaborated with the UK Coalition of People Living with HIV and AIDS in the mid-2000s, creating volunteering opportunities for members on our site, and eventually taking over UKC's Rosendale Allotment plot when the organisation closed in 2007.
A Greener London
Roots and Shoots is committed to creating a greener London for all. As well as the green development of our own site, we contribute to this in a variety of other ways, including planting new green spaces across the area, collaborating on horticultural projects and providing advice and support to gardeners. 
We have been horticultural partners for successful large multi-million Lottery bids to Lambeth parks including Myatt's Field Park and Kennington Flower Garden, to enable Lambeth to regenerate its parks making them more horticulturally rich and enjoyable for the community. 
Roots and Shoots has collaborated with The Conservation Foundation on three horticulture related projects. These included Morus Londinium, a mulberry project for London funded by the Heritage Lottery Fund. It received a prestigious Europa Nostra Award, which cited Roots and Shoots' involvement. The awards, launched by the European Commission in 2002, "celebrate and promote the highest standards in heritage interventions, research, and education, training and awareness-raising, as well the longstanding dedication of professionals and volunteers."
The Conservation Foundation's Ulmus Londinium was also HLF-funded. This was an elm project for London, which included planting 750 elm tree saplings propagated from ten mature elms growing in the UK which were resistant to Dutch elm disease. The saplings were grown on for one year at Roots and Shoots in a special elm nursery. They were then sent to ten sites around London for the final season of growing before being distributed to schools and other organisations. As part of this, pupils from Walnut Tree Walk Primary School were invited to Roots and Shoots where they learned the story of the elm and then carried the saplings down the road to Lambeth Palace, one of the new growing sites. Final destinations for the elms included Holland Park, Hampstead Heath, Syon Park and High Elms Country Park.
The Conservation Foundation's Tools Shed project repaired and restored broken and unwanted garden hand tools in partnership with HM Prison Wandsworth. The first ever giveaway of free tools to local schools and community gardens was hosted at Roots and Shoots.
In 2011 Roots and Shoots received a 'UNESCO Man and the Biosphere UK award' for our impact on the local environment and our work with disadvantaged communities. The citation described "an outstanding and imaginative programme promoting in depth understanding of sustainable development combined with a wildlife garden that is a place of peace and beauty for deprived multicultural communities."
Our therapeutic green spaces have been enhancing the wellbeing of students, staff, volunteers, community users and wildlife for over 40 years, providing an essential place filled with nature for all to enjoy. Our Wild Garden and site can be visited by appointment or at open days, and we have also managed the Bubble Gate Garden (also known as Doorstep Green), a public open space owned by Lambeth Council since 2000. This brought our students and the community together to build a garden for wildlife and locals and included planting a wildflower meadow and a Cellini apple orchard. This green space provides constant access to nature and green space for local people to enjoy, and it is maintained by our horticultural students as part of their vocational training. 
During the 2020-2021 Lockdowns, the Bubble Gate Garden was an essential place for people to visit and meet friends and family in the fresh air, and a space was set up for local people to sow seeds, grow vegetables (with plants provided by Roots and Shoots) and find connection during a very difficult time.
In addition to our site and the Bubble Gate Garden, the area around Roots and Shoots has benefited greatly from the maintenance and creation of new gardens by staff and students. Community gardens supported include Archbishop's Sumner School, Lollard's Adventure Playground, Beaconsfield Gallery, and The Paper Garden. They also historically included Normancroft, Etheldred House Care Home and Lambeth Community Care Garden, amongst many others.
On our own site, maintenance and development of our green spaces and Wild Garden is also heavily supported by committed local individual volunteers and groups of corporate volunteers. Our individual volunteers all have a passion for gardening, and often don't have a garden of their own and so they come to Roots and Shoots to get close-up with nature, make a positive difference and take part in our vibrant community. Previous volunteers have gone on to study horticulture at the Royal Botanic Gardens, Kew and Capel Manor College, as well as to train as landscape designers. 
Our enthusiastic corporate volunteers often come from the City, with many never having had the opportunity to garden or get close to nature before. Corporate groups help with larger projects on the site, and make a big positive difference, directly supporting its biodiversity and the charity's aims. 
We are extremely grateful to our volunteers for the positive impact they have had on Roots and Shoots and particularly the students. In addition to volunteering, participating in community group activities and events, for 20 years we have been supported by the Friends of Roots and Shoots, whose donations have enabled students in poverty to receive new clothes for gardening and for interviews, to support environmental projects, and for all the other essential enrichment extras which our main ring-fenced funding could not support. Particularly notable is the £10,000 raised by the community at a local fundraiser for the Main Roots and Shoots Building in 2004, which proved the affection with which Roots and Shoots is held by the community, helping to attract further funding of over £1.75 million, in turn enabling our core Main Building to be completed in 2007. 
Roots and Shoots is one of the most sustainable and affordable venues in Central London. Our Main Hall and boardrooms are available to hire for meetings and gatherings. We are proud to provide discount rates to charitable organisations as part of our own charitable mission to support good works and improve society. All income generated from venue hire is directly reinvested back into our Environmental Projects, as well as maintaining and further developing our gardens and sustainable buildings. Charities and Not-For-Profit organisations which often hire Roots and Shoots include Macmillan Cancer Support, Water Aid, Natural England and DEFRA. 
Events
For 40 years we have opened our gates several times a year to host open days for the wider community, check What's On to find out about our next one. For many years we hosted Apple Day and Frog Day, as well as other themed Open Days where people came to learn about wildlife, fruit and vegetables, to buy plants, jewellery and other wares from local artisans and to be entertained by storytellers and performers. Notable collaborators included the Lion's Part, Andy Howard's Fruit Trees and Keith with Crumbucket the Mechanical Dragon.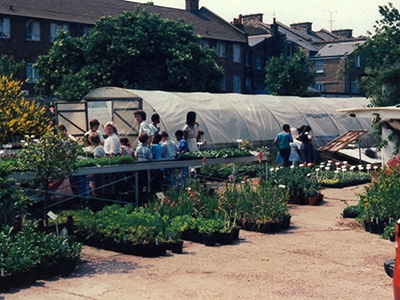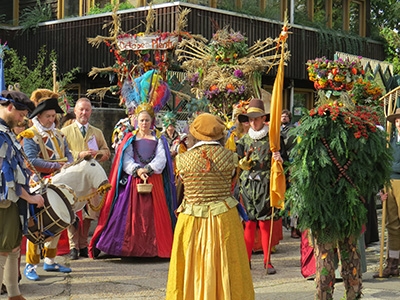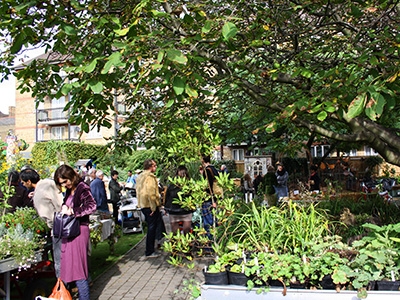 For 25 years, up until the mid 2000s, Roots and Shoots operated in the community as a plant nursery and horticultural resource for local people to buy bedding plants and vegetables such as busy lizzies, petunias, tomatoes and herbs for their balconies and gardens. Locals were given advice by staff on how to get the best out of their plants, and around Kennington window boxes and balconies blossomed. We still sell some plants at our Open Days, however this is now a smaller operation as we focus on growing plants for our own site activities including urban growing and the pollinator project.
We have also historically had spaces at fairs, fetes and festivals including Lambeth Palace Fete, Lambeth Country Show in Brockwell Park, Bonnington Square event days and school fairs (particularly at Walnut Tree Walk Primary School) around South London. At school events, Roots and Shoots would supply plants and the schools would sell them to locals.
For six years we hosted the Magpie Kitchen by Phillip Costen, who created historical and cultural-inspired meals with enormous flair. We now host the BogleBoy Supper Club, created by chef Courtney. Find out about new supper club events at What's On.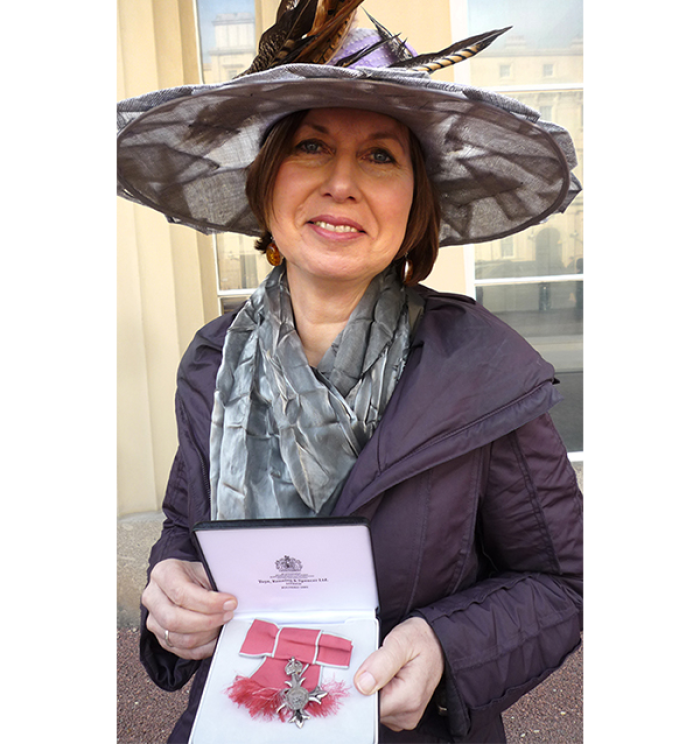 Linda Phillips MBE
In 2012 Roots and Shoots founder and Director Linda Phillips was awarded an MBE for her lifetime of service to young people and communities, in recognition of the enormous positive impact Roots and Shoots has had on so many.
Royal Visits
Nothing has brought our community together in a more joyful way than visits from royalty. In June 1988, as part of the London Gardens Society, Roots and Shoots was officially visited by Her Majesty The Queen Mother, who came to see the whole site, meet students and local people, and officially open the Wild Garden. She had a rapturous welcome and the local people living in the adjacent flats came to their balconies to watch and cheer.
In 2007 the new Roots and Shoots building was completed, and the then HRH The Prince of Wales officially opened the new building on the 12th June. Once again the whole local community turned up to celebrate, with the Prince meeting all of our staff, students, volunteers, funders, representatives of local organisations and local school children from Walnut Tree Walk Primary School, Ethelred Nursery, and Michael Tippett Special Needs school.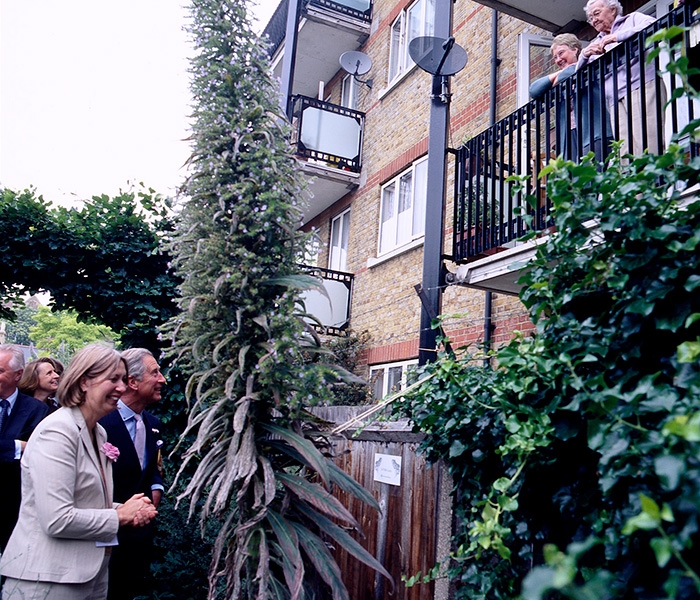 Prince Charles meets the neighbours in 2007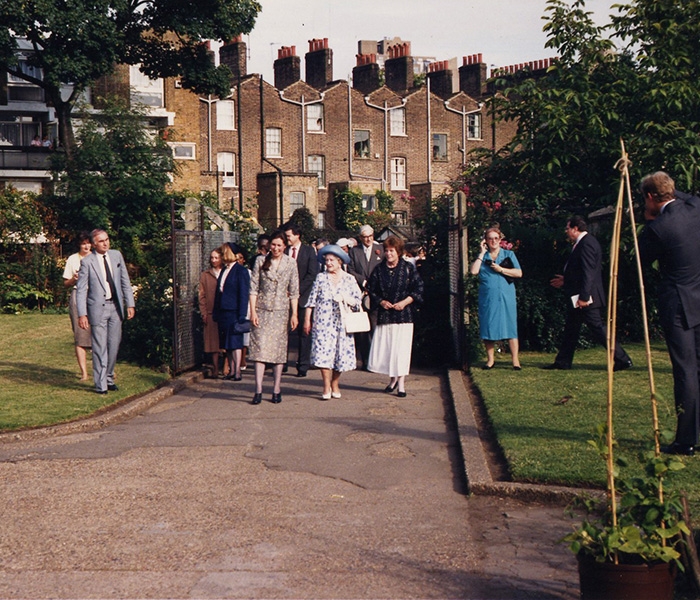 The Queen Mother's visit in 1988