School Links is Roots and Shoots' alternative provision programme, providing practical learning and access to nature opportunities for students at local schools in our UNESCO award-winning green spaces and outdoor classrooms. The programme focuses on supporting students with EHCPs and those who find traditional classrooms or mainstream education challenging to navigate.
Accessible to secondary schools in London, each programme is tailored to the needs of individual schools and their students, with emphasis on community, teamwork and environmental education.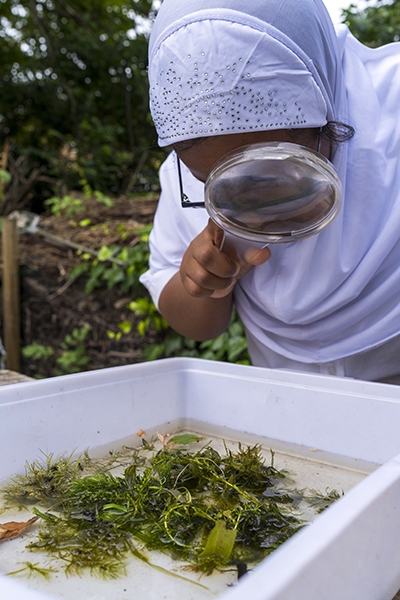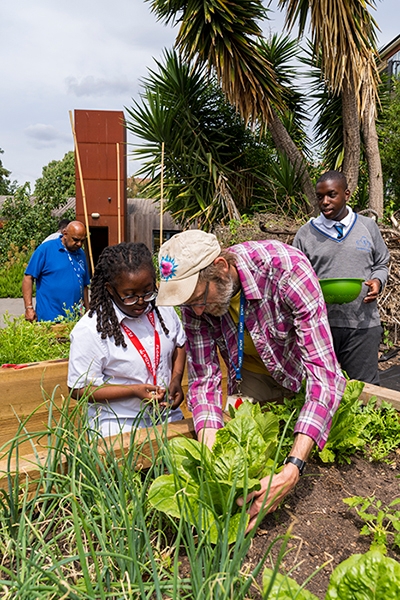 School learners partaking in a range of environmental education activities, including horticulture and pond dipping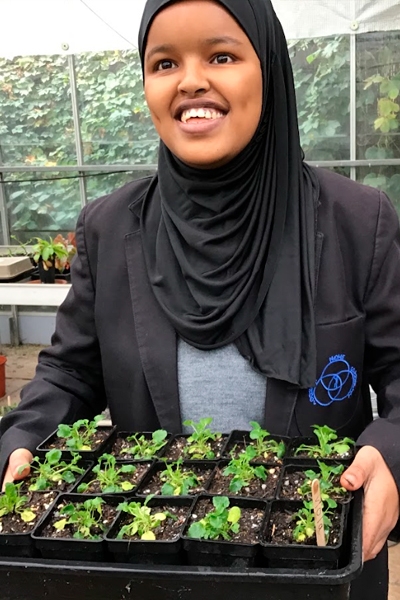 Led by our experienced tutors, each week over 60 school learners from several local schools take part in a broad range of learning sessions covering Science, Life Skills, Horticulture and the Environment or accredited Employability Skills training on our site and other local spaces.
We aim to help school learners gain confidence with a holistic approach, combining accredited courses with practical activities to inspire and educate. At our unique, nature-rich site, learners also get the opportunity to experience the wonder of nature in a familiar urban environment, learning in the Wild Garden and directly supporting wildlife with our environmental projects like Urban Growing and the Pollinator Project.
We are currently open to work with more schools and colleges, see the Q&A below to find out more about the programme. If your organisation is interested in participating in our School Links Programme, please contact us by email at placements@rootsandshoots.org.uk or by phone on 0207 587 1131 to discuss your school's needs.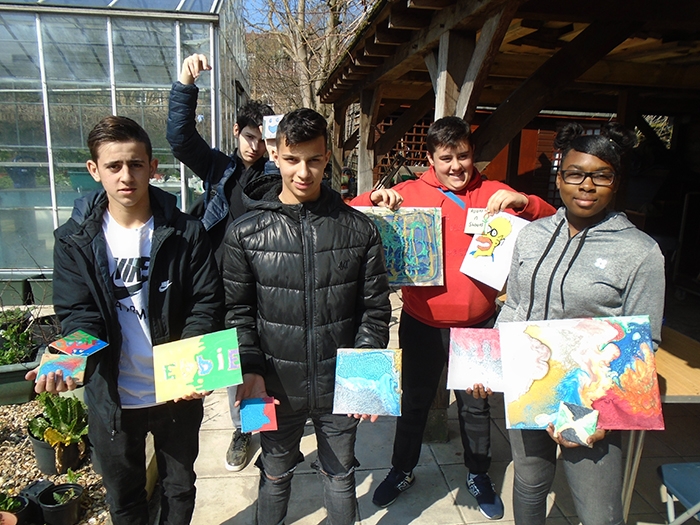 School learners showing off their artwork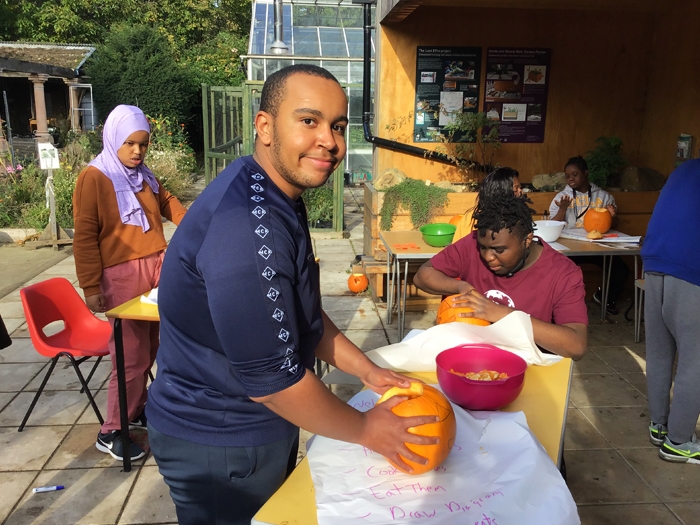 School learners making Halloween pumpkins and cooking
The School Links programme is mostly taught onsite at Roots and Shoots in Kennington, with occasional offsite trips for learning, work experience and fun. Onsite, groups use the Natural Roots Building as a base and space for indoor learning, with outdoor learning taking place across our site.
Roots and Shoots can cater for mixed ability groups or multiple groups from the same school delivered at different levels. Group sizes are between six and ten with staffing support, and we require a minimum of six students per group. As every course is bespoke, costs vary, depending on the staffing levels, whether accreditation is included and other content. 
Schools can choose whether to send groups for:
½ Day (2-2.5 hours) Variable start and finish times, usually 10-12 or 1-3

Whole day (4-5 hours) Variable start and finish times, usually 9:15/10am- 2/3 pm with a lunch break. 
The School Links Programme is focused on working with SEN students, school refusers, and students who are not meeting minimum curriculum requirements. We are open to working with schools across London, and we currently partner with schools from Lambeth, Southwark and Wandsworth.
We don't provide one-to-one student support, but we welcome schools who can provide their own additional staffing support for students who require it.
Please note that we are a working site and not a secure unit, and so the programme may not be suitable for students at risk of running.
School Links programmes combine classroom learning with practical onsite experience. 
Schools can choose an accredited option with learners gaining credits towards a City and Guilds Employability qualification, a City and Guilds Horticulture Level 1 qualification or a WJEC Science Today qualification. We offer units at Entry 2 and Entry 3. Credits for units can carry over if the learner later attends Roots and Shoots full time. 
Units for City and Guilds Employability will focus on Workplace Safety, Healthy Living, Identifying Hazards, Working as a Team, Environmental Awareness and Candidate and Community Projects. 
Units for WJEC Science Today will focus on Plant Care and Land maintenance. 
Roots and Shoots has an holistic approach to learning, and so alongside our accredited offering, we offer a range of engaging activities in addition to or embedded into the accredited course like tool use, cooking, nature activities, onsite and offsite practical experience. 
We also offer supplemental enrichment activities such as art, drama, sports or Forest Schools, depending on the interests of the group.
When appropriate, we take groups on urban nature walks like the Ice Age Tree Trail at the Imperial War Museum, or the Flower Gardens at Kennington Park. 
Learners practise the basics of horticulture through activities including seed sowing, taking cuttings of plants, caring for seedlings, planting out flowers and bulbs, growing and harvesting vegetables, learning about soil and what a plant needs to grow. 
Groups have regular sessions based in our Wildlife Garden where they can observe invertebrates living under logs, amphibians in our pond, make bird feeders and watch for visitors, identify trees and plants, and learn about how flora, fauna and fungi all work together in an ecosystem.
They can also take part in Forest School activities such as building a shelter or den, playing nature games, making crafts from natural materials, climbing trees, sawing logs, whittling, basic foraging, and safely making fires for brewing tea, toasting marshmallows, popping popcorn or cooking dishes like chilli. 
All of these activities and experiences feed into one another to give the learners a holistic environmental education that compliments science, food tech and the life skills curriculum.
If your school has a green space like a garden or raised beds, we can work with your learners in this space. With our experienced team, we can provide the expertise to help make your green space flourish, while teaching your school learners about horticulture and the environment.