Roots and Shoots is an independent training provider, offering practical vocational training and education to young Londoners with an Education, Health and Care Plan. We provide young people facing multiple challenges with a safe space in which to flourish, empowering them to develop new skills, build confidence and gain employment experience to prepare for the world of work. 
Roots and Shoots has a proud history of offering inclusive training and support for local people in need since 1982. Our students have many positive outcomes, often going on to paid work, higher level courses, supported training and volunteering. 
Read Graduate Stories
Find out more about our Student Impact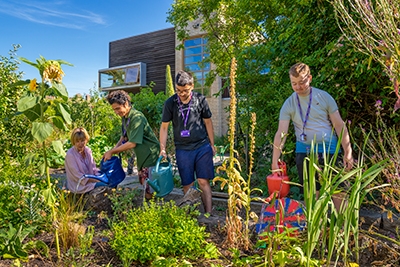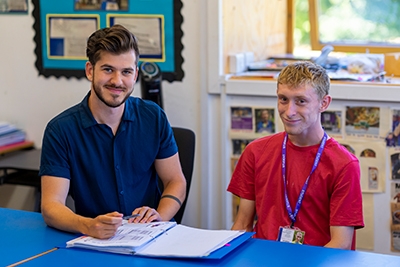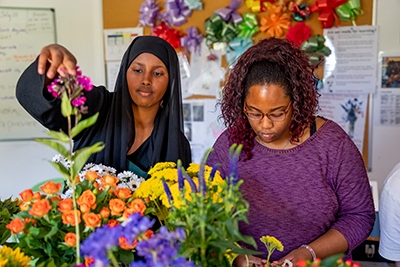 We run a Study Programme and a Pre-Supported Internship programme. Our bespoke courses are tailored to the needs and aspirations of each individual student. We specialise in Horticulture, Floristry and Retail as well as functional skills including English, Maths, Employability and IT. Included in all our programmes are careers advice, a wide variety of work placement opportunities, holistic support and a diverse enrichment programme. 
The vocational education Roots and Shoots provides is directly funded by the Department of Education and Local Authorities. We are Ofsted inspected and were rated as Outstanding by Lambeth Education in July 2017.
The Roots and Shoots staff team come from a wide variety of disciplines and backgrounds, and are all qualified in their respective fields of education. Staff areas of expertise include autism, dyslexia, literacy and numeracy development, and other specific learning difficulties.
We also provide a School Links Programme in partnership with mainstream and specialist secondary schools and colleges across London, giving pupils the opportunity to complement their existing curriculum with other key activities, including practical work experience, life skills, gardening and environmental education. This environmental education provision is often seen as a bridge into further education, college and adult life.
Find out more about our offer